Best ways to protect your rental property in Fort Worth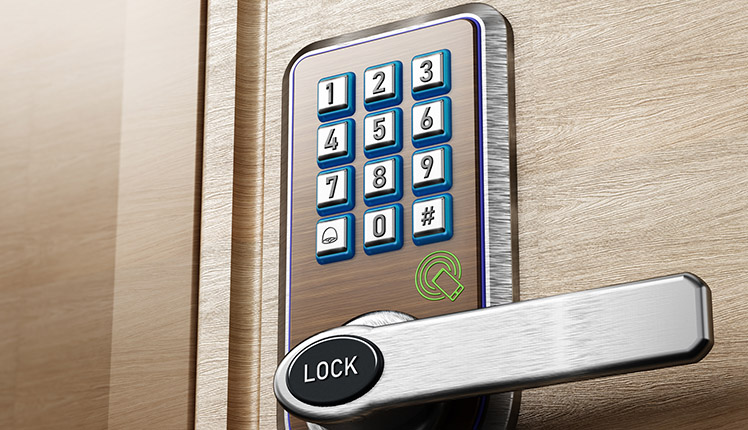 Whether you rent out your family's cottage or have a diverse portfolio of Airbnbs, you may find it a challenge to protect your rental properties in Fort Worth. With metal keys going to different occupants, it's easy to worry about missing items or past renters showing up out of the blue. In addition, what would you do when there's an emergency like a fire at your rental unit while you're offsite?
From smart door locks to comprehensive security with home automation, here's a quick guide on how to protect your Airbnb in Fort Worth.
Eliminate those easy-to-lose keys by switching to smart locks
When a guest vacates the premises, they may return all keys for the next guest. Although, if someone took or secretly made copies of a key, it would be possible to re-enter later. Of course, you might replace your locks when a key goes missing, but that takes time and money.
Thankfully, you can install smart door locks that function alongside your security system to counter these concerns. You can then give each renter their own unique entry code. When your occupants check out, there's no need to worry with a key dropoff. All you need to do is set the codes to deactivate after they vacate the property. If previous occupants come back and try their old code on the keypad, you will receive a message of the failed attempt on your mobile device.
Smart home technology makes vacant units appear occupied at all times
Of course, you hope that your Fort Worth rental property will have a steady flow of renters, but that isn't likely to always be possible. Nevertheless, you need to make it seem that guests are there so your rental isn't targeted by prowlers. Incorporating home automation into your property's security gives you the chance to take advantage of smart lights, motion detection devices, and video cameras that make your lodging appear occupied.
Start by programming some lights to come on at particular times of the day. You will also want your security app to warn you if your cameras detect an unwanted guest lurking around your perimeter or coming to the front door. You then are able to use the talk capability to make them know you can see them or program your smart lights to automatically illuminate when a camera or motion sensor uncovers something unusual.
Protect your Fort Worth Airbnb with around-the-clock monitoring
Your occupants will have more peace of mind if they have protection against intruders, especially when Fort Worth is somewhat unfamiliar. When a thief tries to break in, your security system will not only sound a siren but will also notify your 24/7 monitoring team. Even if you're not available, assistance will be forthcoming. Your monitoring experts are capable of acting as your primary contact and loop you in as soon as you're available.
Along with break-ins, your monitoring hub can be linked to fire alarms, flood sensors, and CO detectors. It would be understandably upsetting for your renter if a pipe bursts or something catches fire. Not only will you be sent a smartphone update that an emergency has occurred, but the monitoring agent is also able to arrange for assistance while you're in transit.
Order your new home security system in Fort Worth
The best way to protect your Fort Worth rental property is to install the latest in home protection. Thankfully, Vivint has popular choices like smart light bulbs, smart entry locks, and around-the-clock monitoring. Reach out today and our security specialists will personalize a plan that makes sense for your property. Call (817) 241-5844 or complete the form today!
Areas Served Around Fort Worth By Smart Security Specialists Your Local Vivint Authorized Dealer